Art / Heritage / Archeology Industry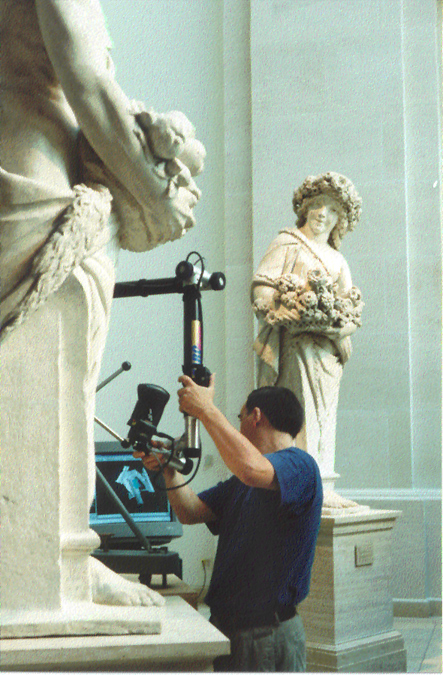 Few things endure and continue to resonate with us over time as powerfully as art. The works of the masters--Michaelangelo, Rodin, Bernini, to name a few-- along with those of lesser-known talents, still enthrall and inspire art-lovers. Today, nearly 460 years after Michelangelo's death, well over one million people continue to visit the Accademia Gallery of Florence every year to view "David," his Renaissance-era sculptural masterpiece.
Yet while the ideas and emotions inspired by art endure, the original works themselves are dangerously vulnerable to damage and destruction, both deliberate and unintentional. Wars, vandalism, erosion, carelessness, natural catastrophes, thefts, and more pose an existential threat to sculptures, carvings, ceramics and other works. The same holds true for priceless archeological and cultural heritage artifacts, such as dishes, stone tools, pottery vessels, buttons, weapons, and jewelry.
Fortunately, 3D laser scanning offers the perfect solution for the preservation, replication, study and display of rare and fragile artworks and archeological artifacts. Our laser scanning makes it possible for you to digitally preserve exact copies of one-of-a-kind artworks and historical artifacts. The size or the material of your artwork doesn't matter--we can scan objects of any size and of any material with superb accuracy. Our scanners capture the surface geometry of even the most intricately shaped objects, preserving the measurement data down to the most unique and minute details--every twist and turn, every curve and angle, every notch and pit. In short, we capture the exact geometry of your artworks or artifacts and save them as computer-aided design (CAD) models, which you can use to reproduce the original works at any size on a 3D printer, CNC machine tool, etc., or keep on hand as a guide to restoration or replacement of specific elements.
Who can benefit from laser scanning?
• Artists
Whatever your area of ceramics or sculpture--whether chiseling, carving, casting, modeling, or something else-- the CAD files we provide to you will forever preserve the precise shape and surface of your work for whatever use you can imagine. One of our clients has a successful line of jewelry based on soapstone shapes that he whittles. Once his hand-crafted shapes are laser-scanned, duplicates can be produced with the click of a few buttons.
Another client, Jeff Koons, creator of the famous original "Balloon Dog" stainless steel sculpture, used the template created from the CAD model of our scan to create full-size copies of the sculpture in different colors. One of the sculptures, the orange model, was sold by Christie's for $58.4 million, setting a record at the time (2013) as the most expensive work by a living artist to be sold at auction.
• Archeologists, Museums, Cultural Centers, Colleges/Universities
The computer models provided by NVision--exact in every detail to the original object--make it easy to reproduce artifacts in plastic, metal or other materials with a 3D printer, machine tools, or via a casting process. The replicas can then be shared with other museums, cultural facilities, and educational institutions for further study and display. And because the replicas are exact duplicates of the original works, they help ensure ensure that no damage comes to the originals through vandalism, theft, accidents, or simple human contact, (Human hands contain oils that react to the surfaces of objects, corroding their surfaces and reducing the lifespan of the work.)
For example, NVision, in cooperation with the Nasher Sculpture Center in Dallas, scanned sculptures by Auguste Rodin (perhaps best-known for his sculpture, The Thinker) and Julio González. The scanning data was used to 3D-print to-scale replicas of the sculptures for a tactile educational experience for the blind and visually impaired.
Our experience in scanning ancient objects means the NVision team is more than prepared to handle any challenges associated with scanning fragile artifacts. We have worked successfully with paleontological museums in scanning fossils, including a skeleton of Dimetrodon limbatus, a predatory reptile that predated the dinosaurs.
• Historical sites
Laser scanning is increasingly being used to capture and record the shapes and dimensions of historic structures and sites, including Mount Rushmore. The high degree of accuracy in the scanning not only preserves the structure's shape and measurements, it provides information on the current condition of its surface. The subsequent CAD file therefore not only preserves a digital copy of the structure as it currently exists, it can also serve as a guide for maintenance as well as a source for restoration or replacement of specific elements, if necessary.
NVision is proud to be a leader in 3D laser scanning, a technology that is revolutionizing the preservation and study of art, culture, and archeology.
There's a reason why The Smithsonian, Tiffany's, The Museum of the Rockies and The Metropolitan Museum of Art have all entrusted NVision with the digitization of their priceless artworks and artifacts. Our experience with artists, archeologists, museums, and the curators of cultural heritage shows...in the results we deliver and the customers we keep.
Please contact us by phone (817.416.8006) or email (sales@nvision3d.com) (link sends e-mail) to discuss your 3D Scanning/Measurement needs.