Automotive & Transportation Industry
The use of 3D laser scanning in the automotive and transportation industries has increased exponentially in recent years, and for a very good reason. There is not a single stage in the automotive development and manufacturing processes that can't benefit from the use of laser scanning--and those benefits are usually accomplished more rapidly and cost-effectively than would be possible by alternative means.
At NVision, we successfully work with OEMs across the entire transportation spectrum, including Automotive, Off-Road, Motorcycles, Trucks, RVs, Trailers and other vehicles, both military and civilian. Even Aftermarket equipment manufacturers.
If you're seeking to maintain or regain your competitive edge, NVision's non-contact 3D laser scanning and engineering services may be the affordable and efficient solution you've been looking for. Here are just some of the ways we can help you to optimize Design, Development, and Production: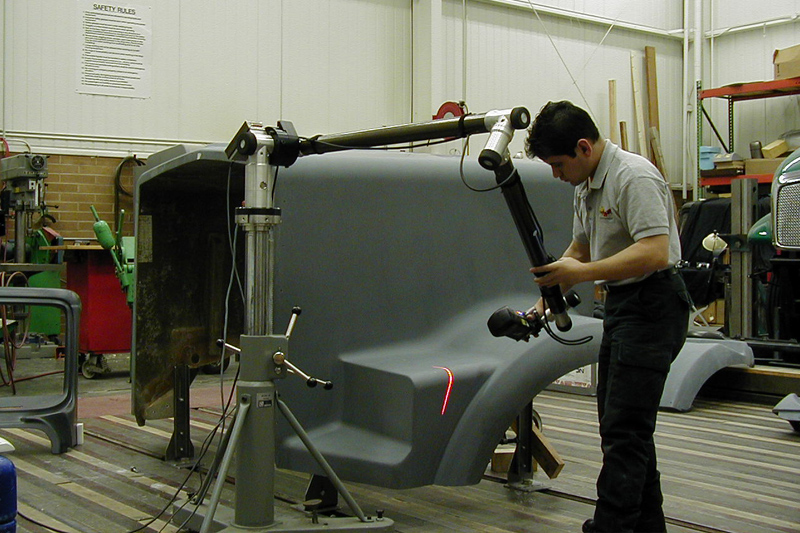 Improve prototyping process. Our scanning technicians are experienced with prototyping processes and can turn your physical models to design- or production-ready CAD files that can be used to document, revamp, or manufacture your prototype. Whether you want to preserve the shape of prototype iterations, digitize the surface geometry of clay models, or achieve some other prototyping objective, NVision can help. Spending less of your time on capturing data leaves more time for the creative aspects of the design process.
Save design engineering time and cost. Get products to market faster. Our team is experienced in scanning the outer body parts (hood, doors, fenders, trunk, etc.), underbody parts (chassis, axles, transmission, suspension, etc.), and interior parts (instrument panel, gear shifts, etc.) whose dimensions are critical to a vehicle's proper assembly, appearance, performance, and safety. We also scan to aid in the design of aftermarket equipment, such as custom roof racks and other accessories.
The outstanding data collection capabilities of laser scanners is a key factor in their growing use throughout the automotive and transportation industries. Using a coordinate measuring machine (CMM), it can take a technician about a week to develop a packaging database consisting of approximately 15,000 data points. That is fine for some applications, but often does not provide the level of resolution or detail that most engineers want to see. In contrast, the laser scanners we use capture thousands of points per second, making it possible to generate complete surface models of the vehicle exteriors and interiors (including test manikins).
The enormous amount of data obtained in our scans provides engineering staff with far more detailed information for design considerations, which reduces engineering time/cost, leads to better, more innovative designs, and accelerates time to market.
Improve interior design. Enhance comfort and ergonomics for vehicle occupants. When an interior element of a vehicle such as a seat has been built, evaluated, and determined to be comfortable, it's essential to accurately capture its exact dimensions for production (or to build further prototypes for additional modifications). Nothing does this better--or faster-- than 3D scanning. And because our scanning process is non-contact and non-destructive, we can inspect softer materials such as seats and upholstery without needing to touch, depress, or risk damage to the materials.
3D laser scanning provides an exceptional level of inspection/measurement details--ideal for interior aesthetic considerations. We can typically capture between three and four million surface points in an hour, each point being a spatial measurement of the object's surface. When we create a surface model from the resulting "point cloud," your engineers will have a complete, easy-to-visualize, 3D representation of the vehicle interior that eliminates any limitations on the design issues they can address. They can easily move the position of the interior components in order to determine the impact on the human factors. For vehicle interiors, 3D laser scanning's precision allows engineers to quickly evaluate how their aesthetic design choices will impact occupant ergonomics and vice versa.
With 3D laser scanning, we can collect far more data faster, making it possible to perform more accurate occupant packaging (the process of measuring human factors criteria, such as reach, posture, and visibility, for a proposed interior package) and other interior design evaluations in less time than was possible in the past.
Reverse engineer parts and components for redesign or reproduction. Do you want toredesign or reproduce a unique or as-built part? How about an older part that is no longer produced or one that has been damaged? Not a problem. At NVision, we're experts in rapid redesign and reverse engineering. From capturing the precise contours of a full vehicle body to the complex dimensional details of the smallest part, our scanning technicians can quickly and accurately obtain the information you need and deliver it to you in a CAD form you can work with. Once armed with the 3D CAD file, an exact duplicate of your product in every detail, you can update and improve its design, begin reproducing older parts, and more.
Perform detailed First Article (or other) inspections. Utilizing the scanning data and resultant 3D CAD model of your product, our technicians can perform a detailed First Article Inspection of even the most complex surface, indicating every place on the part that is out of tolerance and to what degree. We can determine if the dimensional properties of your production part meets design specifications and can compare the scanned surface model to the original CAD design to produce a deviation "map" that clearly shows the locations of any dimensional deviations. And the entire inspection can be completed significantly faster than is possible by manual measurement methods, reducing the time and cost of the inspection.
Improve quality control. Our scans will provide you with CAD models--exact digital duplicates--of your product, enabling you to virtually inspect and compare any as-built part to its original design intent--regardless of its size or geometrical complexity. Inspect any component or assembly, large or small, from engine block parts, transmission assemblies, and complete suspension systems, to doors, windows, trim, floor components, seats, and the small parts critical to a car's build such as fasteners, sleeving, grommets, and more. (And these and other small parts are vital. According to the American Automobile Association (AAA) most breakdowns are due to faulty small parts)
With its ability to capture the precise physical geometry of a product and then create a CAD file of the part, NVision's 3D laser scanning and reverse engineering services offer the prospect of better product designs, more efficient development and production, improved quality control, and faster time to market for the automotive and transportation industries.
For over three decades, the NVision name has been synonymous with quality work. Our experience in the automotive and transportation industries shows...in the results we deliver and the customers we keep. Our clients include Toyota, Porsche, Kenworth, Trinity Rail, Volkswagen, and Daimler-Chrysler.
Please contact us by phone (817.416.8006) or email (sales@nvision3d.com) to discuss your 3D Scanning/Measurement needs.