Reverse Engineering
NVision, Inc. was established in 1990 with one goal in mind: to provide customers with the highest accuracy non-contact optical measurement systems and services for Reverse Engineering and Inspection. Focusing our expertise on the aerospace, power generation, and oil/gas industries, NVision provides both contract scanning services and systems sales to companies throughout North America. Our elite team of engineers provides customers with an unmatchable level of experience and is able to advise and assist with the most difficult engineering challenges.
The engineers will evaluate which data capture process is best applicable to the part being measured, taking into account the required measurement tolerance, material of which it is constructed, and any internal/hidden features that need to be measured.
The data from these will be used to generate delivery format options for your data.
Scanning Technologies for Reverse Engineering
The need to replace or optimize aging but essential equipment originally designed in the pre-CAD era is a problem faced by all industries, from aerospace to power generation.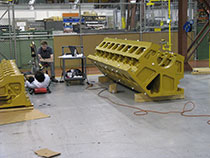 Unfortunately, parts and equipment designed without the benefit of CAD technology often lack the critical documentation and information necessary to create accurate computer models for design analysis and/or reproduction. Reverse engineering is therefore required in order to create the CAD models needed by engineers.
Reverse engineering used to be a labor-intensive process involving manual measurements made with a variety of hand measurement tools such as calipers and gauges. Needless to say, these methods were time-consuming and prone to human error, usually resulting in measurements of less than optimal accuracy.
Fortunately, there are a number of optical measurement systems and services available to engineers today that offer a much faster, more accurate alternative to previous methods. But how do you know which is best for your needs? Following is a list of the leading optical measurement technologies and what they offer.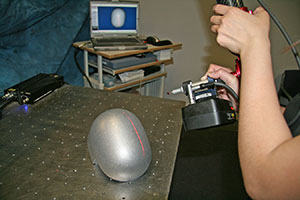 1. HandHeld laser scanning – A handheld scanner is a portable, non-contact laser scanning device. Whether attached to a mechanical arm or held by the operator, it is a powerful device that can capture an object's 3D coordinates, or data points, rapidly and with a high degree of resolution and accuracy. One advantage to these scanners is their versatility – a handheld scanner is capable of capturing 3D geometry from objects of almost any size or shape, in almost any environment. Its flexibility, speed, ease of use, and portability make it a suitable choice for nearly every type of reverse engineering application, from consumer goods to full size automobiles.
2. CMM – A coordinate-measuring machine, or CMM, is capable of obtaining extremely accurate scan data, largely because it is equipped with optical encoders. However, CMMs, although highly accurate, are not capable of capturing data points at the rate of speed of some other scanning methods. Moreover, because optical encoders can be very sensitive, they may experience a loss of accuracy in some environments.
3. Computed Tomography (CT) scanning - This is one of the most accurate and versatile scanning technologies available today for reverse engineering. CT scanning utilizes x-rays to produce 3D representations of both internal and external components. Fast, accurate, non-invasive and non-destructive, its ability to capture internal geometry makes it a good choice when inspection or measurement requirements exceed the capabilities of laser scanning. This is often the case with objects that contain internal geometry that would be obscured for laser scanners, such as certain medical devices. The limitation of CT accuracy is relevant to the amount of power required to penetrate heavy metals.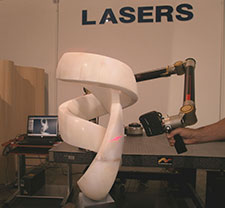 4. Long-range scanning – Also known as "time of flight" scanning, this process is used when large-scale data capture is needed. For example, when you need the as-built data about structures such as factories, power plants, and oil platforms; construction projects such as road or bridges, or industrial machinery and equipment. Long-range scanning is reasonably accurate and can be conducted even in poor conditions (low lighting, etc.). Among its other benefits, it allows early detection of interferences and design flaws and can be used to create blueprints and floorplans.
5. White light scanning – Usually tripod-mounted, these scanners derive their name from the fact that the scanner's bulb generates white light as opposed to laser light. One of their biggest advantages is the number of points they can collect in one "shot" or grid of data. With each shot at different angles to the object being measured, a white light scanner captures data points in greater density and then stitches the different patches together usually with pre mounted stickers. Since the data points are denser and closer together, the object's geometry is captured in greater detail. This type of scanning is a good choice for intricate, detailed parts. The one negative is removal of all the stickers from the object when scanning is completed.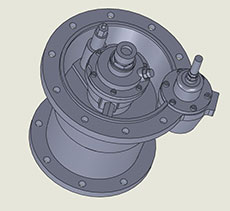 After scanning is completed, the object's 3D data is usually converted to an STL file, which is then used to create a 3D IGES/STEP/parasolid model or native solid in the specific CAD format required. These formats include CATIA, Pro/Engineer (Pro/E), SolidWorks, Inventor, Unigraphics/NX, and SolidEdge.
The computer models are used to create duplicates of the original part (or, in the case of long-range scanning, the structure), analyze and optimize the original part, or - if used for inspection - to show deviations between the manufactured product and the original 3D design.
If your application needs don't warrant the purchase of an in-house scanning system, there are a number of companies that will provide these scanning services on a contract basis. Key things to consider when seeking a contract scanning service are:
• Accuracy - Does the company have the right equipment to scan or inspection you part at the required tolerance?
• Speed and Flexibility – Is the company will/able to travel to your facility to do the scanning or do you have to bring the part to them? How quickly will they be able to deliver the 3D data to you?
• Reputation – Is the company well-established? Do they have significant experience in the type of scanning that you require?
• Knowledge – Does the company have expertise in multiple scanning methods? Can they advise you as to which scanning technology best suits your needs?
• Software - Does the company have the software you require such as SolidWorks, Pro E, NX, Catia, and Inventor? Can they provide a native parametric model in your preferred software or are they limited to dumb solids?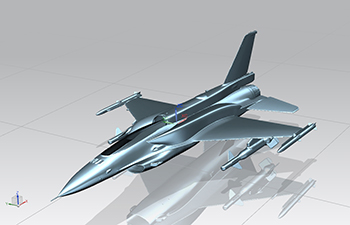 For those seeking to reverse engineer and/or inspect parts or structures, today's optical measurement technologies provide a vast improvement over yesterday's manual measurement systems. By and large, the scanning methods mentioned above do not require highly skilled operators, provide higher accuracy models and time savings in the range of about 50% - 75% and the final computer models can be used for a variety of purposes such as FEA, CFD, and inspection. It is well worth your time to investigate which scanning system – or contract scanning service - best fits your needs.
Please contact us by phone (817.416.8006) or email (sales@nvision3d.com) to discuss your 3D Scanning/Measurement needs.