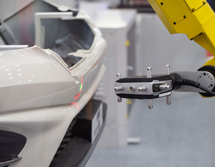 While industry has made efficient use of 2D machine vision for optical character recognition (OCR) and ID reading systems, there are a multitude of other applications better suited to a 3D non-contact scanning system. These include measuring and inspecting topographical surface features such as height, width, curvatures, edges, ridges, indentations, raised lettering and symbols, and more. The ability to capture an object's precise geospatial data makes 3D scanning ideal for automated inspection, reverse engineering, process analysis, and other functions.
You could try to do the job yourself, but realistically, designing an in-house scanning setup isn't a practical option for most companies. Equipment is expensive and few companies have staff with the appropriate knowledge of scanning technology. Trained, experienced scanning engineers almost always get better inspection results. In short, creating an in-house scanning system is costly and frequently results in flawed measurements, necessitating re-dos and greater time/money expenditures.
Which is where NVision comes in.
NVision – Bringing More Than Three Decades of Experience To Every Inspection Challenge
We are highly experienced (30+ years and counting!) in designing customized 3D inspection solutions, including robotic systems, to make your best even better. Systems tailored to your specific requirements. Solutions that deliver exceptional accuracy at blinding speeds, letting you meet every inline inspection challenge from components assembly to parts' tolerances to packaging certification and more–all with stunning precision. Solutions that can substantially improve your quality, throughput and efficiency. Improved quality = fewer rejected pieces, better throughput = increased production, and greater efficiency = faster time-to-market. It's the basic math of our customized scanning solutions and it all adds up to a healthier bottom line.
We believe our engineering services are the best in the U.S.A. and we'd love the opportunity to prove it to you.
Customized Automated Solutions
The continuous drive to improve product design, production efficiency, time-to-market, and meet tight tolerances, coupled with the rising costs of materials and the increased complexity of machined parts, have made automation an indispensable element of modern industry. Our customized automated solutions can improve manufacturing quality and performance by eliminating defects, verifying assembly integrity, and tracking and capturing information at every stage of the production process.
The majority of customized inspection systems we create are based on fringe projection technology, often referred to as FPS, Structured Light, or white light or blue light. The go-to scanners for precision inspection, they have remarkable speed and accuracy, quickly delivering intricate and detailed measurement information. Employing blue or white light to project a series of reference patterns on an object, their high-resolution cameras capture measurement information down to a level of mere microns.
How a Custom 3D Scanning Solution from NVision can Benefit You:
Reverse Engineering. Fringe projection captures dense amounts of geospatial data, quickly generates polygon mesh and boasts broad data export features, perfect for reverse engineering. Note: We also provide Custom Format delivery. Captured data can be supplied in a variety of formats, such as generic STL, IGES, STEP, Parasolid or in native CAD format files (with full feature tree) such as SolidWorks, Inventor, CATIA or ProE, as a parametric feature based model.
Quality control. Our automated solutions can quickly compare scan data with the original CAD data in order to detect and reject bad parts. The result of this comparison process is delivered in the form of a "color map deviation report" (AKA "Heat Chart") which pictorially describes the differences between the scan data and original CAD data with different colors representing levels of deviation. (See image below.) Alternatively, this color chart can be presented as a "go/no go" image. Points of interest can also be clicked on to check their deviation, which is shown with a flyout. Wall thickness can be automatically calculated and displayed as a separate heat chart.
Inspection reliability and accuracy. Eliminate the human errors inherent in manual inspection procedures and measure tolerances too close to be accomplished by manual means or even conventional vision systems.
Rapid Prototyping. Measurement data can be directly inputted into machine tool equipment for the production of models. Also useful for scaling up production of prototypes.
Parts traceability. Scanners can rapidly detect upraised identifying letters, numbers, and symbols on parts.
Manufacturing process analysis via PLC integration. Scanning the product and its tooling at different stages within the manufacturing process can be extremely valuable in revealing potential improvements. Our systems can be integrated with your PLC for fast and integrated measurement and inspection, automatically "spitting out" bad parts and providing complete inspection and fault process reports at the end of measuring routines.
First article inspection (FAI). Ensure that your product meets a client's exact specifications.
Trend analysis. The same FAI reports (see above) can be easily recreated, including batch analysis of multiple data files of the same type. The ability to generate the same reports with new data also enables the use of trend analysis for forecasting future problems.

and much more!
Experience matters. Nobody ever seeks out the least experienced for help. NVision's elite team of engineers possesses an unmatchable level of experience in custom-designing 3D scanning solutions to solve even the most difficult inspection/measurement challenges.
Contact us today and let us show you why Boeing, GE, Lockheed, Lear, NASA, Porsche, Raytheon, Siemens, Toyota, and every branch of the U.S. military all count on NVision to provide the solutions they need to succeed.
Our work has been featured in leading industry publications, including Quality Magazine, Metalforming, Vision Systems Design, Performance Racing Industry, Packaging Technology Today, Aerospace & Defense Technology, Digital Engineering, Product Design & Development, Laser Focus World, Automotive Engineering International, Today's Medical Developments, and many more.
Please contact us by phone (817.416.8006) or email (sales@nvision3d.com) or send us a detailed message through our contact form