SET LASERS TO "STUN" AND GO TO MARKET FASTER
 As Featured in Packaging Technology Today, October 2022
PRECISE 3D LASER SCANNERS EXPEDITE PACKAGING DESIGN AND CERTIFICATION
Tasked with multiple responsibilities, including the need to meet tight tolerances, reduce material waste, and obtain prompt certification, more packaging manufacturers today are finding their one-stop solution in 3D non-contact optical scanning.
These scanners capture, with a high degree of accuracy, the dimensional details of real-world packaging, including its shape, size, and textures. This data is then processed and used to create a three-dimensional computer-aided design (CAD) model of the packaging that manufacturers can use for measurement/inspection, reverse engineering, redesign, or mass production. There are a variety of technologies available, many best-suited to specific inspection needs, but arguably the most versatile non-contact optical scanning device is a 3D laser scanner.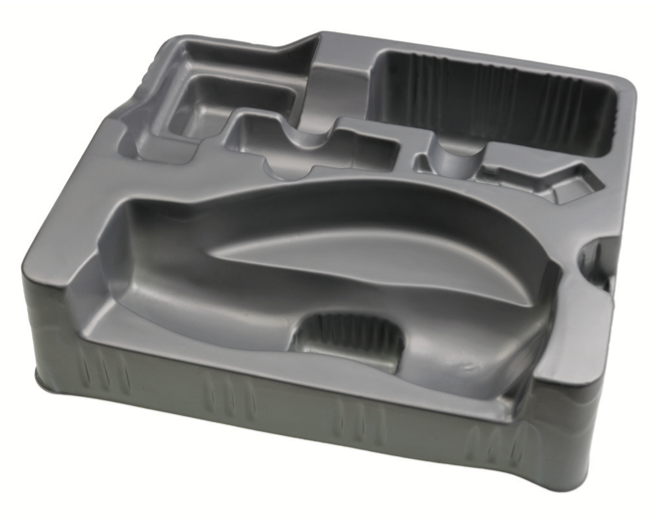 NVision has provided 3D scanning equipment and engineering services for more than 30 years, and here are answers to questions about the latest trends and developments:
How is inspection/detection/visioning technology changing?
Continual technological advancement has been a hallmark of laser scanning ever since its inception in the 1960s. Laser scanning today is faster, more accurate, and more versatile than we could have imagined even just 20 years ago. Improvements in quality analysis software now allow for more automation, reducing the need for human interface and the man-hours required. Macros can be created quicker, allowing batch processing of large numbers of parts. Developments like these continue to advance accuracy, utility, and verification.
The increased use of the Cloud is creating new collaborative opportunities for engineers and enabling them to make faster use of scan data. Dependency on cloud-based scan data will undoubtedly grow, especially among larger companies with design and manufacturing teams in multiple locations.
Similarly, the growth of additive manufacturing, or 3D printing, is spurring greater use of laser scanning, as designers quickly hand-modify and 3D-print prototypes and models on site. Laser scanners are also being used more in personal settings, with gamers now using them to digitize objects to create virtual reality avatars.
What are the key capabilities of this technology?
Laser scanning can rapidly and accurately capture a real-world object's dimensions and surface geometry. The handheld scanner we use most often on projects has an accuracy of plus or minus 0.025 millimeters or 25 microns, the latter being one-thousandth of an inch. As its laser light sweeps across an object's surface, it collects vast amounts of individual location points on the object's surface, each with its x,y,z coordinates and i,j,k vectors. The full dataset, or "point cloud," collected by the scanner comprises literally millions of these measurement points. With this sheer amount of dimensional data, the CAD file created from the point cloud, viewable from all angles, comprises an exact duplicate of the object's surface, down to the most minute detail.
The speed at which the data is obtained is impressive. Able to capture 60,000 or more separate measurements per second, laser scanners are capable of collecting a far greater amount of inspection/ measurement information than can typically be obtained by other measurement means–and accomplish it in much less time. With many of our projects, scanning is complete within a day or two, sometimes even less than that.
This dimensional data can be used in multiple ways. Engineers can use the CAD file to reverse engineer the packaging to optimize its design or correct a detected flaw. They can perform quality control and inspection analysis on the as-built packaging for a fast "go/no go" decision in manufacturing. Scanning services can provide comprehensive inspection reports that include color deviation, cross-section analysis, specific 2D/3D dimensions, feature analysis, and Geometric dimensioning and tolerancing (GD&T).
Why is this technology important for the inspection and certification process?
Due to its speed and accuracy laser scanning can greatly accelerate the certification process. And with an accuracy of plus or minus 0.001 of an inch, or greater, a laser scanner is capable of quickly detecting even the smallest deviations from an original design. This allows the manufacturer to quickly correct any deviations so the product meets specifications. Coupling speed with accuracy means faster certification and getting your product to market faster.
How can packaging manufacturers use this technology?
There are several ways. They can scan finished products to design or improve the packaging. This is especially helpful to packaging manufacturers who have only the product and are creating the packaging from scratch.
Since laser scans are extremely accurate in capturing the exact shape and dimensions of packaging, the CAD files created from scan data serve as an ideal tool for precision inspection or design modification. Design flaws in packaging are particularly well-suited for detection by laser scanners. For example, a few years ago a beverage manufacturer was experiencing sealing flaws in its large-sized bottles.
After we scanned sample bottles and provided the manufacturer with CAD files of the bottles, its engineers were able to closely inspect the sealing surfaces of the bottles and reverse-engineer them so that the sealing problems were isolated and resolved.
How does laser scanning improve the packaging production process?
Laser scanning can be employed to inspect and measure the tooling, molding, and other equipment and components necessary to manufacture the packaging. For example, scans of a product and its molding can be compared to check for any areas of deviation.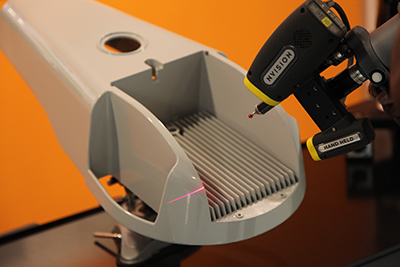 Why is laser scanning useful for packaging certification?
Scanning is an excellent tool to use for packaging certification. After packaging is scanned, digital files can quickly be generated certifying that manufacturing specifications pass quality standards.
How does non-optical scanning reduce the time to market for new electronics devices?
One way that scanning shortens the process of getting electronics products to market is by providing faster certification of the packaging. Scanning can, of course, further shorten time-to-market if it's used earlier in the design/production process when CAD files could reveal shortcomings in the original packaging design or deviations from the design exhibited during modeling or prototyping. The latter could indicate issues with the manufacturing process.
As the consumer electronics industry continues to bounce back from its 2020 slump, faster time-to-market is especially important as manufacturers find themselves once more in a growth market marked by increased consumer demand.
Which industries benefit from these advancements?
As of early 2022, every sector of packaging – and particularly pharmaceutical, industrial, agricultural and food and beverage companies – are poised to experience some level of growth. As the global supply chain stabilizes in the wake of the pandemic and industry revives, the race to deliver packaging for a recovering economy will intensify. Non-contact optical scanning, particularly 3D laser scanning, should be considered an essential 21st-century technology for packaging manufacturers seeking to remain competitive in design, quality, and production efficiency.
Any industry needing a digital model of a part, product, or structure, be it for inspection, measurement, re-engineering, mass production, or preservation, can benefit from laser scanning. This includes packaging, architecture, healthcare, medical devices, aerospace, automotive, power generation, oil and gas, turbines, food, and many others. For example, "terrestrial" laser scanners can scan entire buildings for the construction industry.
The variety of applications for 3D scanning is endless. We have, in recent years, been asked to scan priceless sculptures by Auguste Rodin, rare fossils from paleontological museums, even a series of handmade goose calls. In medicine alone, laser scanners are being used to scan limbs to create better, and personalized, prosthetics, re-engineer scalpels and other surgical instruments, and much more.
About the Author
Steven Kersen is the President of NVision, Inc. in Southlake, Texas, and is a leader in non-contact optical measurement technology and services.