​3D Scanning Accelerates RedBone Production of World-Champion Goose Calls
(Southlake, Texas; September 24, 2021) -- NVision's 3D laser and computed tomography (CT) scanning services are helping RedBone, a manufacturer of hand-crafted goose calls, get its unique products to customers faster, enabling the Elton, La., company to significantly expand its output. After scanning two key components of a call--the barrel and the insert--NVision (Southlake, Texas) provides RedBone with computer-aided design (CAD) files containing all the dimensional details of the hand-built parts, which are then used for reproduction. As a result, RedBone has been able to grow its business while ensuring that every replicated part perfectly matches the specific dimensions of the hand-built original.
Founded in 2005 by Nathan Wright, RedBone creates goose calls that are highly regarded throughout the hunting and calling-competition communities for their quality of design, construction, and sound. Calls produced by RedBone include the Specklebelly Goose, Snow Goose, Blue Goose, Ross Goose, and Cackler Goose. The company also produces calls for Sandhill Cranes, Buzzards, Coyotes, and more. RedBone calls have been used successfully in numerous calling competitions, including 12 of the last 14 World Championships, and are considered to be among the best available on the market.
A goose call primarily consists of five parts: the outer parts, the barrel and the insert, and the inner sound-producing parts (or "guts"), which are contained within the insert; these include the reed, soundboard and wedge. The barrel and insert fit together, essentially forming a tube with a hole at each end. The distinctive honking sounds are created by blowing into the top hole of the barrel while cupping your hands and fingers around the insert's bottom hole. This creates back pressure and vibrates the call's "guts," producing sound.
Wright's back-story is that of a craftsman devoting time to doing what he loves. In 1964, he began designing and building his own goose calls for use by hunters and calling competitors. Making calls from all woods imaginable--from old cypress knees to hardware-bought two-by-fours--Wright sawed them off, bored them out, sanded and filed them, selling them for anywhere from $85 to $250 on up. To make his calls even better, he swapped parts from different manufacturers. After 40+ years of that, Wright decided that there was only one way to get the exact parts he wanted--he'd have to make them himself.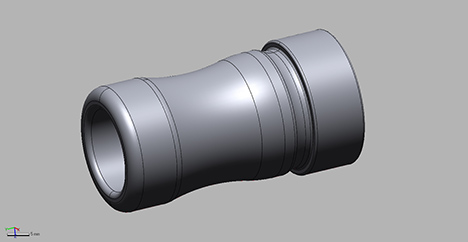 CAD model of goose call insert
Founding RedBone, he bought a used mini wood lathe at a garage sale, set it up on his back porch and began learning how to make parts. Performing the cutting himself enabled him to ensure that each part of the call was dimensionally correct; as a result, the calls worked perfectly. It wasn't long before considerable demand for his calls built up. But as Wright notes, "although I could replicate the dimensions of parts, I could only do it on a limited, 'one at a time' basis."
Enter 3D scanning. With its ability to precisely capture the complex geometry and contours of an object with a speed and accuracy exceeding that of manual measurement methods, 3D scanning has become the go-to technology for those who want to perfectly reproduce their original object.
Wright reasoned that if he had his one-of-a-kind barrels and inserts scanned, he could pass the resulting CAD files to machine shops, who could use the files to perfectly reproduce the "back porch" parts. He would continue building the "guts" himself, one at a time by hand.
Unimpressed by the metrology service providers he spoke with, who seemed unable to fully grasp what he needed, Wright continued looking until, he says, he "got lucky" and contacted NVision, Inc., a leading 3D measurement and engineering services company with a 30-year history of digitizing objects with unique and complex shapes. He found NVision to be different from the other service providers. "They were straight up. Down to earth. They knew what I wanted and why I wanted it. Simple and professional."
Wright sent two of the "back porch"-produced barrels and inserts--measuring about 4.50 inches long X 1.25 inches (outer diameter) with various inner diameters--to NVision's facility in Southlake, Texas. There, technicians scanned the parts using a combination of NVision's HandHeld laser and CT scanners, the latter being exceptionally good at capturing an object's internal geometry.
NVison's Handheld laser scanner is a powerful portable scanning device capable of capturing 3D geometry from objects of almost any size or shape. Attached to a mechanical arm that moves about the object, the scanner lets NVision technicians capture data rapidly and with an exceptionally high degree of accuracy and resolution. An optional tripod provides complete portability in the field. As the object is inspected, the scanner generates a point cloud consisting of millions of points, each representing a single point on the object's surface, and each with x,y,z coordinates and i,j,k vectors. Together, these points comprise an exact duplicate of the object's surface geometry. The scanner's integrated software converts the point cloud to an STL polygon while intuitive software allows real-time rendering, full model editing, polygon reduction, and data output to all standard 3D packages.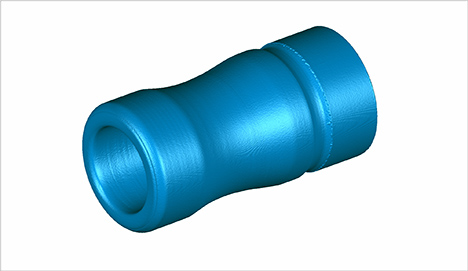 STL Mesh of insert from CT data
NVision's CT scanner utilizes x-rays to produce 3D representations of both internal and external components and/or geometry. Non-invasive and non-destructive, CT scanning enables internal and external design and manufacturing requirements to be confirmed quickly and with the highest degree of accuracy from 0 .0002 inches / 0.005 mm. The dataset from the scan can then be used for rapid part-to-part inspection, part-to-CAD inspection, or reverse engineering to a native CAD file.
After thoroughly scanning the barrel and insert in less than one day, NVision converted the CT scan images into 3D point cloud data and polygonated it, together with the laser scanner's raw point cloud data, into STL files. The files were used as templates to create design-intent CAD models, which were delivered in IGES and STEP format, which is a generic CAD file, importable into any CAD software.
NVision also created 2D fles for Wright, since not all of the machine shops that RedBone works with are able to work with 3D files. "NVision has done some outstanding 2D drawings for me," says Wright.
"Not long ago, I hooked up with a start-up shop that had only very old CNC equipment and very low rates. Their machines were not designed to upload files. Fortunately, with the 2D files that NVision provided, that's not a problem. I simply handed the 2D files to the operator, he manually keyed in the info, and quickly perfect parts were falling out of the machine at the rate of about six per minute."
NVision has also provided Wright with advice that prompted him to make design modifications. "I welcome and consider any comments from NVision. They are experts," he says.
The success of NVision's services has led to an ongoing working relationship with RedBone. Wright now uses NVision's scans in the production of all RedBone barrels and inserts. "When I'm satisfied that a design is effective, it's sent to NVision," he says. "They know what they are doing. Recently, NVision scans were used to machine the injection mold used to make RedBone polycarbonate calls. The mold builder had zero problems with the files."
Asked to summarize the benefits of NVison's scanning service, Wright says: "NVision is why RedBone grew. Had I not run across them I probably would have just given up on the idea of advanced machining and settled for what I could get done on the back porch."
For more information about NVision's 3D measurement and engineering services, contact NVision, Inc., 577 Commerce Street, Suite 100, Southlake, TX 76092. Tel: 817.416.8006, Fax: 817.416.8008, Email:sales@nvision3d.com, Web: http://www.nvision3d.com
For more information about RedBone's goose calls, visit https://www.redbonecalls.com/
About NVision
NVision, Inc. (www.nvision3d.com) was established in 1990 with one goal in mind: to provide customers with the highest accuracy non-contact optical measurement systems and services for Reverse Engineering and Inspection. Focusing our expertise on the aerospace, power generation, and oil/gas industries, NVision provides both contract scanning services and systems sales to companies throughout North America. Our elite team of engineers provides customers with an unmatchable level of experience and is able to advise and assist with the most difficult engineering challenges.
NVision's clients include industry leaders such as Boeing, GE, Lockheed, Lear, NASA, Porsche, Raytheon, Siemens, Toyota, and every branch of the U.S. military.
Media Contact: Steve Glad, Structured Information, Ph: 248.289.0610, Email: stephen_glad@strucinfo.com